Round of applause for our sponsors
Don't follow. Lead.
Billy Blue College of Design is known for its engagement with industry and employability focus. We have courses developed in collaboration with industry including game design and development, digital media, communication design, software engineering, branded fashion design and interior design. Billy Blue produces creative thinkers who can do - giving you the chance to acquire the relevant design skills, collaborate with our industry partners, and gain practical experience along the way. We insist our students challenge convention, using innovation to unlock a world of inspiration and opportunity - where imagination is your secret weapon. Your specialist education is delivered by designers, for designers. Tapping into your career potential, and opening your mind to what is possible, is what excites us most. As a Billy Blue graduate you will think creatively and generate great ideas and outcomes for the real world.
Countries: Australia
Industries: 3D Animation Visual Effects Game Design & Development
Software: Adobe Illustrator Adobe Photoshop Adobe Substance Painter Autodesk Maya Zbrush
Diploma of Graphic Design
The Diploma of Graphic Design course will give you key conceptual and technical skills to transform fantastic concepts into visual reality. By enhancing your design awareness and combining problem solving and technical skills, you will be equipped to respond to the requirements of a fast paced, visually-literate society.
The Diploma of Graphic Design course has been designed to provide graduates with a broad base of graphic design knowledge and skills suitable both for entry-level employment in the graphic design sector and/or as a platform for further specialised design study at Bachelor level. The course structure is designed to interweave theory, practice and connection, with each of these themes in turn representing distinct modes of thinking, enquiry and knowledge acquisition in relation to graphic design.
Bachelor of Communication Design
The Bachelor of Communication Design course is structured to prepare you for careers in which information is conveyed visually. These include graphic design, advertising, publishing, packaging, art direction, print and digital media. You'll learn about design usability, typography, ideation and idea generation, digital media, design research, information design and more. You'll also learn how to use Photoshop and Illustrator. The design work you do throughout your study contributes to your professional portfolio – your passport to a serious design career. Nationally recognised and highly respected, learning with Billy Blue provides you with comprehensive skills, know-how and confidence for a successful and dynamic career in the communication design space.
Bachelor or Diploma of 3D Design & Animation
This cutting-edge degree can lead you into a career in one of the most imaginative, innovative and technically sophisticated fields of design – 3D design and animation. Guided by industry leaders, you'll develop modelling and 3D design skills – including texture creation, lighting and original stylistic visual approaches – that will let you create photorealistic and animate visualisations. You'll use your ever-growing digital expertise to present an original design outcome while collaborating with other students. Together you will plan a project from start to finish – through the creation of the animation to the development of a management plan that reflects industry processes. 
Bachelor or Diploma of UX and Web Design
Our Bachelor of Digital Media course specialising in Interaction Design is broad ranging, current and highly regarded in the industry. Bringing together the needs of humans and the capabilities of technology, it covers the theory and practice of user-experience design, information architecture, graphic and interface design, human–computer interaction, nonlinear storytelling, scripting and development, user behaviour and psychology, research, innovation and strategic thinking. If this sounds overwhelming, don't worry – you won't be on your own! You'll collaborate with other students in the Problem-based Learning Studio.
Bachelor or Diploma of Film & Video Design
In the Bachelor of Digital Media specialising in Film & Video Design you will gain broad, flexible hands-on skills in editing and post-production, sound design, concept design, project planning, cinematography, compositing and visual effects. Throughout the course, you'll collaborate with other students in the Design Studio on a diverse range of projects. In this dynamic learning environment, you'll explore pre-production planning, motion graphic design, and digital video production. You'll discover and define a design problems in the digital media world and deliver an outcome while developing essential skills in team work and negotiation. At the same time, led by outstanding industry professionals, you will explore the theory and context of design, film, TV and animation to really bring your creativity to life. 
Diploma of Photography & Photo Imaging
If you're a keen photographer who's ready to take your skills to the next level and perhaps make photography your career, this diploma course will be perfect for you. It will give you a broad base of generalist photo imaging knowledge and experience. Interweaving theory and practice, you will gain skills in using software, such as Adobe Photoshop, Adobe Lightroom and Adobe Premiere, as well as the know-how to use equipment such as DSLR cameras, studio lighting, video rigs, and more. You'll explore both still image and video formats, and learn real workplace procedures so you have the confidence to manage many types of photography assignments from start to finish. With exercises grounded in industry practice and access to studio spaces even outside of class hours, you can refine your skills and experiment with different techniques.
Bachelor of Software Engineering (Artificial Intelligence)
The Bachelor of Software Engineering: Artificial Intelligence (AI) was created in collaboration with IBM, building a powerhouse of skills, future thinking and market insights. Founded on extensive industry consultations, we'll offer you a range of technical subjects with a focus on the major areas of AI – from Natural Language Processing to Robotics. Harnessing your own creative talents and expertise, and led by industry professionals, you'll identify and solve complex artificial intelligence software engineering problems. You'll develop skills that are increasingly the mainstay of software engineering. Also, while the course is founded on strong traditional and cutting-edge software engineering know-how, such as programming, maths and statistical knowledge, you'll also investigate ethics, social responsibility and cognitive psychology throughout your studies.
Bachelor of Game Design & Development
There are some people making games who will tell you it's all about the underlying premise, the stories told or even the mechanics. It's all lies. People love games because of the art, and that's where you'll come in. This course is designed to help you develop both your artistic style and technical skills, so you can decide whether you're more interested in a throwback-EGA aesthetic or disturbingly hyper-real uncanny valley gear. Or something in between, maybe. Whatever the case, you'll be working on industry-standard software alongside industry-standard experts to create beautiful environments, ugly environments, average-looking characters and breathtakingly gorgeous characters as assets for the immersive experience that is gaming. We focus on employability as well as honing your talent, so prepare to be drilled on people skills and professionalism as well as how to capture refracted light in a pixel-art potion of healing and suchlike.
Master of Design / Master of Design (Advanced)
Course description: Want to progress to senior roles within the design industry worldwide? Become an entrepreneurial, successful problem solver who can create and contribute to a variety of design solutions? Then this program is for you. The course delivery is blended with online and face-to-face subjects, providing a flexible learning environment, because we know you're working in demanding roles that also take up your time. In the core subjects, you'll explore conceptual challenges and questions of visual expressions in your quest to develop useful, usable and appropriate designs for good. You'll explore aspects of the user experience, the role of design in humanising information, and the aesthetic and practical dynamics of effective communication and branding in the international industry landscape. With a variety of electives to choose from, you can design your course to suit your interests. Led by highly regarded design professionals, you'll extend your managerial skills and practice; build your understanding of strategic processes; use creative tools and design research; discover the convergent space between disciplines; and explore the latest design theories, practice and innovation. You'll graduate with skills and knowledge that will take your career to the next level, no matter what field you're in. And if you wish, you can enter or exit with a Graduate Certificate or Graduate Diploma of Design.
Learn More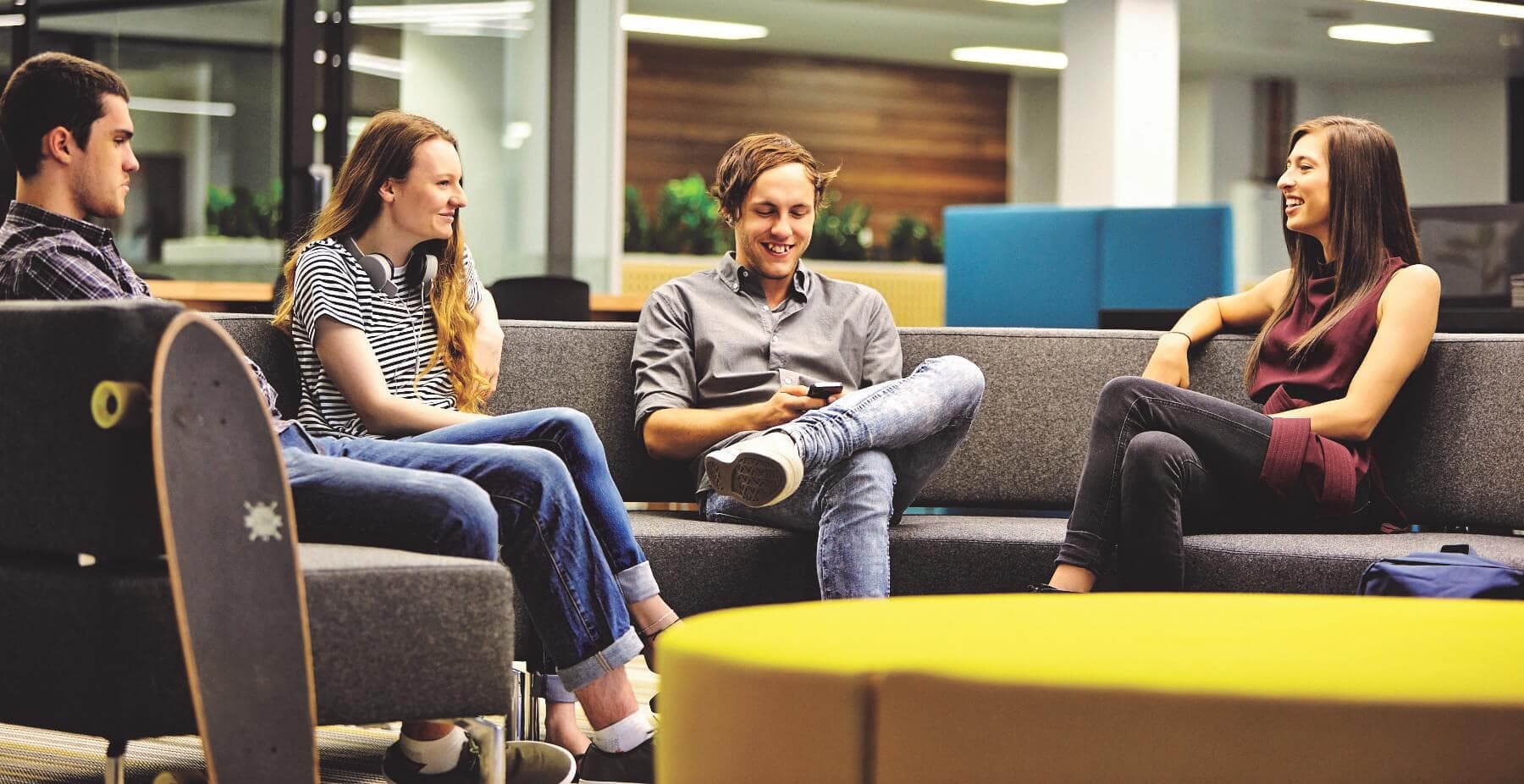 Start your journey
Learn more about Billy Blue College of Design at Torrens University Australia
Choosing an art school is a big decision so make sure to take some time and do your research. Follow the links below to learn more about the school, talk directly with administrations teams, or even chat with students right now.